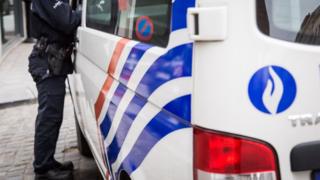 A young girl has been found dead after police chased a van carrying up to 30 migrants in southern Belgium, reports say.
Belgian authorities have opened an inquiry after the body of the girl, aged two or three, was found.
The chase reportedly began on the E42 motorway outside the town of Namur.
The van drove west for several kilometres, evading police. Eventually it collided with a lorry near Mons and the girl's body was found, reports say.
The van was carrying 26 adults and three children of Kurdish origin, according to Belgian broadcaster RTBF. Police were questioning some of those involved.
Hours after the incident in the early hours of Thursday, dozens of migrants reacted by blocking a motorway near Dunkirk, south of the Belgian border in France.
The migrants then returned to the nearby Grande Synthe camp, where some were searched by French CRS riot police.
French reporter Elisa Perrigueur said the Kurdish migrants staying at the camp had known the girl who had died as she had been staying in the gym at Grande Synthe.
Belgian authorities said a post mortem examination would take place to find out what had caused her death.
An unconfirmed report said a Belgian police patrol had tried to stop the van because it appeared heavily weighed down. A police check then indicated it was carrying false number plates.
A minister in the French-speaking Wallonia-Brussels government, André Flahaut, sent his condolences to the girl's family. "The politics of chasing migrants is bound to end in drama," he said on Twitter.
A note on terminology: The BBC uses the term migrant to refer to all people on the move who have yet to complete the legal process of claiming asylum. This group includes people fleeing war-torn countries such as Syria, who are likely to be granted refugee status, as well as people who are seeking jobs and better lives, who governments are likely to rule are economic migrants.