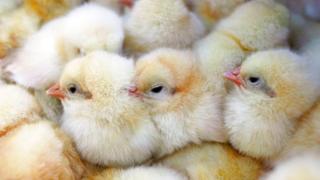 Belgian firefighters have gassed 20,000 chicks which were suffocating in a baking hot cargo container on the tarmac at Brussels Airport.
A plane was to have flown the chicks to the Democratic Republic of Congo on Saturday, but the flight was cancelled.
The gassing took place late on Sunday after the exporter had refused to take the container back, Belgian media said.
Airport firefighters did not want to do it, so a team was called in from nearby Zaventem to end the birds' suffering.
A spokeswoman for the Flemish animal welfare authorities, Brigitte Borgmans, said some chicks had died by Sunday evening, so "we sent a vet to the scene and he decided to put them out of their misery".
The mass euthanasia was sharply criticised by some Flemish MPs. Independent MP Hermes Sanctorum, an animal welfare campaigner, said "there's no difference between Amazon parcels and animals".
Jelle Engelbosch MP of the Flemish nationalist N-VA said "we need to ask why living creatures are exported across the world like economic products", l'avenir.net news reported.