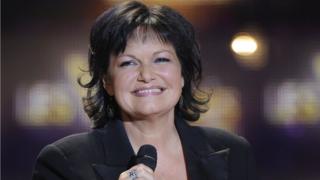 Belgian singer Maurane has died at the age of 57, days after returning to the stage after a two-year absence.
Maurane, born Claudine Luypaerts, was found dead at her home in Schaerbeek, near Brussels, on Monday evening. The cause of death is not yet known.
The singer had interrupted her career in 2016 because of problems with her vocal chords.
She was best known in recent years for her role in a TV talent show for young singers, Nouvelle Star (New Star).
Her career began as a singer in the 1980s.
Maurane had returned to the stage in Brussels with a concert in tribute to Jacques Brel. She was preparing a tour scheduled for the spring of 2019, AFP news agency reports.
A post mortem examination would determine the cause of death, a Belgian prosecutor was quoted by public broadcaster RTBF as saying.