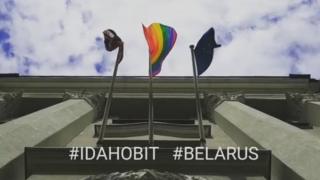 Belarus has slammed the UK embassy in Minsk for flying a rainbow flag on the International Day Against Homophobia, calling LGBT relationships "fake".
In a lengthy statement, the Interior Ministry said the UK was challenging the country's "traditional values".
"The LGBT community, and all this fight for 'their rights', and the very day of the community are just a fake!"
A spokeswoman for the embassy said it would not comment. Homosexuality is not illegal in Belarus but it is a taboo.
Marriage between same-sex people is not recognised and activists say the government has intensified a crackdown on the LGBT community.
Often described as Europe's "last dictatorship", Belarus has been ruled with an iron fist by President Alexander Lukashenko since 1994.
In 2012, he famously declared it was "better to be a dictator than gay" after complaints of human rights abuses in the country.
Same-sex relationship: 'Fake'
In the statement issued on Sunday, the government accused the UK of creating "problems where they do not exist", saying the day against homophobia, celebrated on 17 May, had never been significant in the country.
"The reason for this is obvious – the overwhelming majority of Belarusians stick to traditional family values, including Christian ones. And such statements are a challenge to these values."
Relationships between men and women were the "only way of reproduction", it added. "No matter which way you look at it but a same-sex relationship is a fake. And the essence of the fake is always the same – the erosion of the truth."
The embassy posted a video of the flag on its Instagram account, using the hashtag #Idahobit, which stands for International Day Against Homophobia, Biphobia, Intersexism and Transphobia.
A spokeswoman for the embassy told the BBC that the rainbow flag is usually flown in front of the building on 17 May and there had been no complaints from authorities in previous years.
'Unwelcome pressure'
In a video posted on the embassy's Twitter page on 17 May, Ambassador Fionna Gibb complained that a gay culture festival in Belarus had faced "unwelcome pressure" from officials.
The event was barred from two venues after last-minute inspections by authorities, who alleged safety violations, and was eventually held at a secret location, according to her.
Sarcastically, Ms Gibb said: "It's so pleasing to see that the authorities showed such concern for the safety of the festival participants."
In a report last year, human rights group Amnesty International said the LGBT community faced growing discrimination in Belarus as a result of repressive government policies.