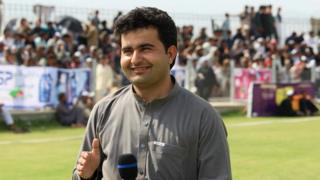 A BBC reporter has been killed in an attack in the eastern Afghan province of Khost.
Ahmad Shah, 29, had been working for the BBC Afghan service for more than a year.
In a statement, BBC World Service Director Jamie Angus said Shah was a "respected and popular" journalist.
"This is a devastating loss and I send my sincere condolences to Ahmad Shah's friends and family and the whole BBC News Afghan team," he said.
"We are doing all we can to support his family at this very difficult time."
Khost police chief Abdul Hanan told BBC Afghan that Shah had been shot by unidentified armed men. He said police were investigating the motive.
Locals told the BBC that Shah had been on his bicycle when the attack happened. He was taken by locals to hospital, where he died of his injuries.
Monday saw at least two other deadly attacks in Afghanistan.
At least 25 people were killed in two bombings in the capital, Kabul, including eight journalists and four police officers, interior minister spokesperson Najib Danish told the BBC. Some 45 people were reported injured in the attacks.
A suicide bomb attack in the Kandahar region killed 11 schoolchildren and injured many more.
Last year, Afghanistan was ranked the third most dangerous country in the world for journalists by Reporters without Borders. It said nine journalists had been killed in three separate attacks.
In June, BBC driver Mohammed Nazir was killed in a bomb attack in Kabul's central secure zone.
Some 400 people were injured by the blast and more than 150 people were killed.