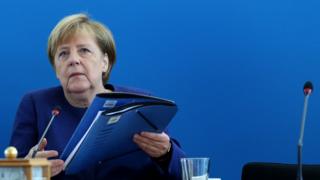 If Angela Merkel was perturbed by the terrible performance of her coalition partners at the Bavarian ballot box, she was showing no sign of it as she addressed the association of foreign traders in Berlin.
In her first public appearance since both the CSU and the SPD suffered humiliating losses, Mrs Merkel was on steely form and only briefly mentioned the election, saying that the parties needed to regain trust.
But, away from the TV cameras, Mrs Merkel has no doubt ordered an exhaustive post-mortem.
What happened in Bavaria leaves the German chancellor (herself already substantially weakened) with three major problems, any of which have the capacity to destroy her fragile coalition government and her own weakening grip on power.
Sister party reels
While they dominated the headlines, the humiliating losses sustained by Mrs Merkel's Bavarian sister party are arguably the least of those troubles.
Mrs Merkel may have even enjoyed a brief moment of schadenfreude as the crushing extent of the CSU's losses became clear.
The Bavarian branch of her conservative movement has openly chased the far-right vote.
Its leaders echoed the rhetoric and policies of the anti-migrant Alternative for Germany (AfD) party and picked several high-profile and damaging fights with Mrs Merkel over migration policy, but this appears to have backfired.
Voters deserted the party in their tens of thousands in favour of smaller parties, including AfD and the Greens. But her critics are quick to lay the CSU losses at Mrs Merkel's door.
They may yet have implications for own party's popularity. And she'll still have to deal with the troublesome Bavarians. The rebellious party leader, Horst Seehofer, is still in post and still her interior minister.
Coalition partner down
Rather more pressing for Mrs Merkel is the terrible performance of her other coalition partner – the centre-left SPD which dropped ten percentage points.
Its popularity has plummeted too at federal level where what was until recently Germany's second strongest party by a wide margin now lags behind, vying for position with AfD and the Green Party.
Many SPD members blame the uneasy coalition with Mrs Merkel's CDU/CSU union which has stumbled, in an ill-tempered and fractious manner, from crisis to crisis.
Tellingly, as the results emerged in Bavaria, SPD leader Andrea Nahles cited the alliance's "poor performance" for the losses.
There's speculation that the SPD leadership may decide to pull out of the coalition and destroy her government (endangering her chancellorship) in order to save the party.
Internal pressure
Mrs Merkel has about two weeks of breathing space.
A state election in Hesse wouldn't usually grab European headlines but this time it might.
The general view is that all three coalition parties will wait to see how that pans out before taking any action. But Hesse is likely to reveal Mrs Merkel's third problem.
Her own party is losing voters at national level and it's likely to do badly in Hesse. Mrs Merkel is much weakened. It hasn't helped that she recently botched a scandal involving the head of her security service.
If there's a rout in Hesse, the CDU may decide to ditch her as party leader at its December conference. A move that would, in all likelihood, lead to Mrs Merkel's resignation as chancellor.
The Bavarian election has been described as a political earthquake. It's certainly revealed the complexity of the challenge facing Angela Merkel and some of her European peers.
Tradition and fragmentation
The old traditional centre-right parties (like hers) and the centre-left are falling out of fashion with voters who are turning instead to smaller, often newer, sometimes populist political parties.
Interestingly, in Germany, that narrative is no longer simply about the rise of the far right.
The AfD is polling well and it is likely to make big gains in several East German states next year.
But a revitalised Green party is also emerging as a serious contender again.
Citizens also appear to be mobilising against the success of AfD and recent street protests by neo-Nazis and far-right sympathisers.
A number of rallies have drawn tens of thousands of people (and, in one case, in Berlin, well over 100,000) to demonstrations against the influence of the far right on German politics and society.
This country's political landscape, like Bavaria's, is no longer a given. New social forces are – at least for now – fragmenting the old power bases.
Mrs Merkel pledged today to show people the successes of her traditional coalition government. She'll need to be persuasive.