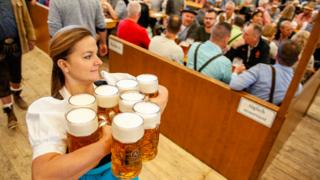 Every autumn, lederhosen-clad drinkers crowd into vast tents festooned with dried hop flowers, to celebrate Bavaria's most intoxicating export.
Waitresses bearing fistfuls of beer glasses squeeze between packed wooden benches. It's hard to make much out above the brass band music but, listen closely this year, and the talk is of politics.
Just like Oktoberfest, Chancellor Angela Merkel's conservative sister party is woven into the checked fabric of Bavarian culture.
The Christian Social Union (CSU) has ruled Germany's richest state since 1957, sharing power just once in a coalition with the free-market FDP. And since then, every Bavarian prime minister has risen from its ranks.
But now, swift as a reveller draining his tankard, support has ebbed away.
The CSU is bracing itself for humiliating losses in Sunday's Bavarian state election. The party is on course to lose the absolute majority its leaders once took for granted.
This is likely to be an historic election which will define Bavaria's very identity, encapsulated in the word "Heimat" (homeland).
"In this election every party claims the term 'Heimat' for themselves," says businessman Franz Bergmüller. "What matters is who defends the values of Heimat."
As far as Mr Bergmüller is concerned, only the far-right, anti-migrant Alternative for Germany (AfD) party does that.
He is one of their leading candidates, having defected from the CSU.
"Heimat means that I can live in peace and quiet, with respect and tolerance for each other but it doesn't mean that I have to adapt to the people who come here with their cultures."
We're talking in the wood-panelled restaurant his family have owned for generations.
From the wall the figure of the crucified Christ gazes dolefully down at us. It's a common sight in Bavaria – by law crosses are displayed in classrooms – but the religious symbol has more recently taken on a political significance.
Earlier this year, in what was widely perceived as an attempt to emulate AfD's anti-Islam stance, CSU Prime Minister Markus Söder ordered that crosses should be hung in all state buildings.
Bavaria key facts
Nearly 13 million inhabitants – biggest of Germany's 16 federal states
Capital Munich is Germany's third-largest city, after Berlin and Hamburg
Second-highest GDP out of 16 German states
Historically conservative region, with strong Catholic and local traditions
Industrial powerhouse: car and IT sectors especially strong, rich in family-run firms
While support is nowhere near the levels seen in eastern Germany, AfD has made gains here and is likely to enter the state parliament for the first time.
The CSU's leaders have echoed its terminology – Markus Söder speaking of "Asyltourismus" (asylum tourism) – and AfD's anti-migration policies.
CSU leader Horst Seehofer nearly scuppered Mrs Merkel's coalition government twice – by insisting on a cap on the number of people seeking asylum in Germany and then pushing plans to turn people away at the borders, in defiance of the German chancellor.
It hasn't worked.
Migration politics continues to be a source of public protest and concern but, even as far-right sympathisers take to the streets of places like Chemnitz, they are mobilising others too.
More than 20,000 people, horrified by the political tone in the run-up to this election, took to Munich's streets for an anti-hate demonstration last week.
And many are turning to the Green party.
It's on course to do far better than AfD and take second place. The Greens' leaders are coy for now about such a prospect, but a coalition with the weakened ruling CSU is likely.
On Christian Meidinger's chicken farm, green fields roll to the horizon – a reminder that this is a rural state. He's voting Green.
"Bavaria has changed," he says. "Many – whether it's those who were born here or those who moved here – don't feel that connected to its traditions. The CSU missed the boat, didn't change with the people. And now it tries desperately to reclaim Heimat and Bavaria, but society has moved on – you can't turn back time."
Angela Merkel will be keeping a close eye on Bavaria. What happens here won't affect her immediately – beyond perhaps a face change at the coalition table, should the CSU oust its leader. Horst Seehofer.
But this election illustrates the complexity of the challenge faced by so many of Europe's large established parties.
It's not simply the rise of the far right. It's that voters are walking away in favour of smaller, newer movements.
Bavaria's political landscape, once a near certainty, is fragmenting fast. With a force the old centre can no longer resist.