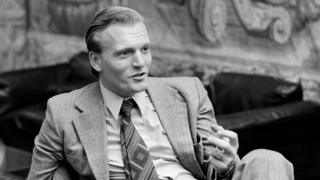 A French-Belgian industrialist who was the victim of one of France's most notorious kidnappings has died aged 80.
In 1978 Baron Edouard-Jean Empain, then head of the Schneider Group, was seized at gunpoint from his chauffeur-driven car near his home in Paris.
He was held for 63 days, chained in darkness, starved, and beaten.
The case grabbed attention when the kidnappers cut off his fingertip and threatened further mutilation unless his family paid a huge ransom.
Baron Empain was 40 at the time, and one of France's leading captains of industry. His Schneider group comprised some 300 companies and employed 150,000 people worldwide.
He was the grandson of Edouard Empain, who had been ennobled by the King of the Belgians after building an industrial empire in the late 19th Century.
Botched ambush
In January 1978 armed men stopped his car on Avenue Foch, in Paris' wealthy 16th arrondissement. The chauffeur was bundled into a van – and quickly released- while kidnappers took the baron away in his car.
There was initial speculation that he had been targeted by one of the left-wing militant groups that were seizing prominent industrialists across Europe at the time.
But it quickly emerged that the abductors' motive was old-fashioned extortion. They contacted the family demanding 80m francs – the equivalent of about 50m euros (£45m) in today's money.
The ransom note came with a packet containing the baron's left little finger.
As kidnappings – both criminal and political – were becoming increasingly frequent, police decided to set an example, and vetoed plans by the family to pay up.
Instead, they lured the kidnappers to a rendezvous point. But the ambush was botched and the ensuing shootout left two officers wounded.
One the abductors was killed and another was captured, but the baron was still chained up in a hideaway in a Paris suburb.
'Broken man'
The detained kidnapper, Alain Caillol, convinced his accomplices to release their captive. Two days later the baron was found wandering the streets south of Paris, disorientated and emaciated – with a 10-franc note his captors had given him to get home.
Caillol later said they had experienced "Stockholm syndrome in reverse" – where the kidnappers end up sympathising with their victim.
"He dominated us morally. Everyone saw in him the dream of what he wanted to be: handsome, rich, powerful, intelligent," Caillol told APF news agency in 2012.
After serving his jail sentence, Caillol sought out Empain to ask for forgiveness. He was not the only one to feel sorry over the baron's ordeal.
During the investigation, police had to delve into his private life to look for possible clues. As a result, his infidelities and gambling sprees became widely known. Public sympathy for him was limited and his wife divorced him shortly after his release.
Empain was left bitter, feeling people had turned against him. He eventually withdrew from business life.
"He was a completely broken man," one of the investigators recently told France Info radio.
"It was terrible that he suffered so much for a few peccadilloes, while he himself showed impeccable virtue. He forgave his kidnappers… Even though he was born with a silver spoon in his mouth, I felt he was hard-done by."