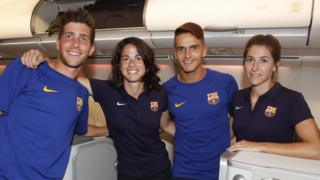 The first mixed-sex tour in Barcelona football club's history has run afoul of women's team fans – after it emerged only the men flew in business class.
The club posted glossy promotional video of the men's and women's teams boarding their US-bound plane together.
But on board, after a photo op, the women were nowhere to be seen in the rest of the video.
Photos posted to the female players' Instagram accounts, however, showed their team flying in economy.
The division was spotted by eagle-eyed supporters of the women's team, who asked why the men – some of whom were from the "B team" as top-rated players were resting after the World Cup – got preferential treatment.
One fan-run account which tweeted extensively about the topic, @BarcaWomen, suggested that if there were not enough seats, the most senior players from both teams should have been allocated business class seating.
But the female players themselves came out in defence of their club.
Alexia Putellas told Spanish news outlet Mundo Deportivo that the women's team had been added to the tour at a later date – and that the club had "to organise everything practically at the last minute".
Barcelona said there simply were not enough business class seats on the plane once the women's team joined the tour – and that it had allocated two to three seats each for every female player in economy class for their comfort.
The incident is a potential embarrassment for the football club, which has been promoting its dedication to women's football and this historic joint tour.
Ahead of the first game of the US tour, the two teams trained together at facilities in Portland, sharing "space and prominence", as Barcelona put it.
"It's something that reaffirms Barca's commitment to women's football," Putellas told Mundo Deportivo.
"Barca is a great club and the tours are also great, travelling with the first team and being at the same facilities is synonymous with a good level."
The teams are on their US tour in Portland from 24 to 26 July, before moving on to Los Angeles between 27 and 29 July.
El Mundo reports that Barcelona has made sure there are enough first-class seats for all the players of both sexes on that flight.
The men's team are set to play Tottenham in the International Champion's Cup, while the women compete against SoCal FC in the Women's Premier Soccer League.