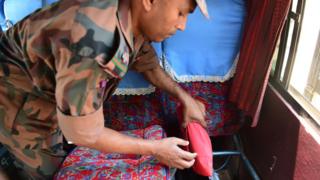 More than 70 people have been killed by security forces in Bangladesh as part of a government anti-drug operation launched this month, officials say.
Authorities said that large-scale raids have taken place in the capital, Dhaka.
Up to 100 people were detained on Saturday and several others suspected of involvement in the illegal drug trade were shot in overnight clashes.
Activists have compared the crackdown to Philippine President Rodrigo Duterte's own deadly war on drugs.
Since the operation was launched in Bangladesh, several thousand people have been detained, while hundreds of drugs users have received fines, according to Bangladesh police and the country's Rapid Action Battalion (RAB) forces.
In the latest incidents, a number of suspected drugs traffickers were killed in exchanges of fire when they were either approached by RAB forces or during raids in a number of districts, officials said.
The campaign was announced by Bangladeshi Prime Minister Sheikh Hasina with the aim of cracking down on drugs traffickers.
Sheikh Hasina said the operation would equal efforts to tackle Islamist militancy in the country, which has led to the deaths of dozens of suspects in recent years during raids on militant hideouts by Bangladesh police and paramilitary forces.
Leading human rights groups have denounced the latest move as "illegal". Dhaka-based human rights activist Pinaki Bhattacharya said security forces were creating an "atmosphere of terror", the Guardian newspaper reported.
"These are nothing but extrajudicial killings amounting to a serious level of human rights violation. The forces have a free hand and are acting as judge, jury and executioner," he said.
The campaign group Human Rights Watch (HRW) has said the killings need to be investigated.
The comparison with Mr Duterte's crackdown in the Philippines has concerned activists.
More than 7,000 people are said to have been killed since Mr Duterte launched a war on the drugs trade in July 2016.
Mr Duterte has said that his campaign to kill tens of thousands of people would not only target traffickers but that he also aimed to "slaughter addicts".