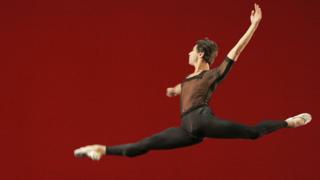 One Russian city is to get a different view of the 2018 FIFA World Cup with a football-based ballet celebrating the "Beautiful Game", but at least one critic isn't impressed.
Ufa, a city of more than one million inhabitants in Bashkiria on the Volga river, was overlooked for football's major event, but will instead host the premiere of "On Football", the Vesti.ru news website reports.
The World Cup will take place in Russia between 14 June to 15 July, but FC Ufa's 15,000 seat Neftyanik Stadium, a model of mid-table respectability in the Russian Premier League, was not deemed worthy of inclusion.
Instead, the action will be at the city's Bashkir Theatre on 30 June, where the ballet's organisers claim there will be "passions worthy of Shakespeare on the stage", as well as scenes from the game.
The ballet is to be the closing work in the Bashkir State Opera and Ballet Theatre's 80th anniversary season, and is the work of Moscow-based choreographer Alexei Ishchuk and composer Ruslan Mursyakayev, the regional news service of mk.ru news website says.
It's not just about the action on the pitch, either. A theatre press release says that fans as well as players will be depicted in the on-stage "stadium", in what RB7.ru calls "the most exciting premiere of the season".
However, the editor of the Krasnaya Vesna website is not so enthusiastic, saying "Art should keep pace with the times, but you mustn't mix art with modern commercial sports".
Comparing "On Football" to the Bashkir ballet's previous repertoire, including a production of Romeo and Juliet, the author asks "How can you relate real passions – which Shakespeare wrote about – and football chants?"
While Gareth Bale's overhead kick goal in the Champions League final in Kiev might have been deemed somewhat balletic, Krasnaya Vesna has its doubts: "Ballet is a special kind of art, requiring grace and subtlety – football is a much rougher affair."
Reporting by Alistair Coleman
Next story: Hungry bears raid Baltic beehives
Use #NewsfromElsewhere to stay up-to-date with our reports via Twitter.