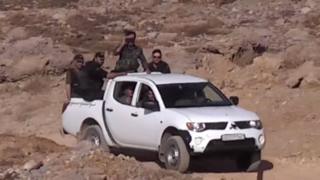 Austria is investigating the conduct of its UN peacekeepers during an ambush of Syrian policemen that they filmed in the Golan Heights in 2012.
A video of the incident, published online by Austria's Falter weekly, shows gunmen preparing the ambush and the police vehicle coming under fire.
A special Austrian Defence Ministry inquiry was launched on Saturday.
Falter described the gunmen as Syrian "smugglers". The Austrians apparently failed to warn the police of the trap.
In the video one Austrian peacekeeper is heard saying: "Really you should tell them".
Seconds later, as the police pickup truck nears the ambush, another Austrian says: "It's about to start, you'll see."
A UN force has patrolled the buffer zone separating Israeli and Syrian forces on the Syrian Golan Heights since 1974 in the wake of the previous year's war.
The 2012 video dates from a period when fighting was intensifying between Syrian government forces and rebels opposed to President Bashar al-Assad.
A UN spokesman said nine members of the Syrian security forces were killed by 13 rebels in the incident, in the Mount Hermon area.
The spokesman called the video "disturbing" and said the UN would investigate it with the Austrian authorities. He was quoted by the Austrian news agency APA (in German) but not named.
The question is whether the Austrians had a duty to warn the Syrian government forces, even if that was not explicitly part of their Golan mission's mandate.
---
Read more on related topics:
---
Last June, Dutch UN troops were found partly responsible for the deaths of Bosniak (Bosnian Muslim) men in the 1995 Srebrenica massacre. A Dutch court ruled that the peacekeepers had unlawfully handed over 350 of them to Bosnian Serb troops.
Austria withdrew its troops from the UN's Golan mission in 2013 because of worsening security.
There is speculation that the Austrian UN troops who witnessed the ambush could be prosecuted as accessories to murder. That is the view of an Austrian human rights expert, Manfred Nowak.
But a former Austrian UN peacekeeper who served in the Golan Heights disputed that. "They acted 100 per cent correctly according to our mission," he told the Salzburger Nachrichten daily.