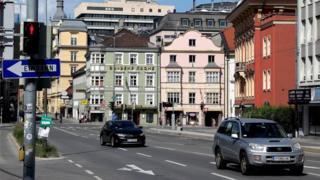 Learner drivers in Austria will no longer be able to take their theory test in the Turkish language, the transport ministry says.
A minority of prospective drivers take the test in Turkish, but it reportedly remains the second most-popular option.
Transport Minister Norbert Hofer, from the far-right Freedom Party, said the move was aimed at cutting costs.
"Each additional language for training costs the state a five-figure sum that isn't justifiable," he said.
But he added that the decision was also intended to be an "encouragement to learn German."
"It's naturally a question of costs but also for me it's essential to clearly establish which languages it is sensible to have the exam in," he told public radio station Ö1.
He said candidates will still be able to take the examination in English, Croatian and Slovene.
The anti-immigration Freedom Party secured a number of key posts in Austria's coalition government after last year's elections.
It governs with the conservative People's Party, which makes Austria the only country in Western Europe to have a far-right party in power.
The change to the language options for learner drives comes amid a prolonged souring of relations between Austria and Turkey.
Chancellor Sebastian Kurz wants the EU to break off Turkey's EU membership negotiations – a stance that has angered Turkish President Recep Tayyip Erdogan.
In May 2017 that anger led Turkey to veto Nato's co-operation with Austria. The move disrupted Nato's partnership activities with 41 countries. Turkey is a key player in Nato operations.