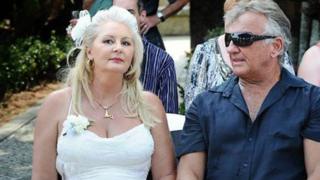 An Australian woman who dumped her partner's dismembered body next to a road and set it alight has been found guilty of murder.
Lindy Williams, 60, was sentenced on Friday to spend a maximum of life in prison for killing her de facto partner, George Gerbic.
Mr Gerbic's headless torso was found in Queensland in 2013.
Williams had pleaded guilty to burning and disposing of his body, but denied killing him.
She told a court that Mr Gerbic had slipped and hit his head while the couple were having a fight at home in September 2013.
Williams alleged she had left him lying on the floor, and returned days later to find his torso in their bathroom.
But a Supreme Court of Queensland jury disagreed and convicted her of murder, with a judge condemning her "heartless" and "sophisticated" cover-up.
Questions remain
During the trial, Williams told the court that she believed a friend had interfered with Mr Gerbic's body.
But prosecutors alleged that Williams had dismembered it with an electric saw before dumping Mr Gerbic's torso about 80km (50 miles) from the couple's home.
It took police 10 months to identify the remains. The court heard Williams lied to family and friends during that period, telling them that Mr Gerbic was overseas.
In his sentencing remarks, Justice Peter Flanagan said: "Because you dismembered his body, it remains unknown where his head is, where his lower body is, and where his hands are.
"This surely must be one of the worst cases of interference with a human body."
It also remained unclear how Mr Gerbic had died, the court heard.
Justice Flanagan ordered her to serve a minimum of 20 years in prison before being eligible for parole.