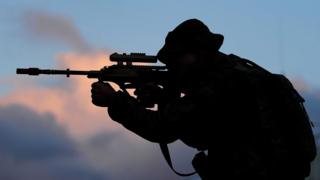 Australian Prime Minister Malcolm Turnbull has condemned a photo showing an Australian army vehicle flying a swastika flag in Afghanistan.
The "completely and utterly unacceptable" incident took place during a mission in 2007, he said.
Mr Turnbull said commanding officers had taken "immediate action" to take down the symbol of Nazism at the time, before disciplining those responsible.
It follows intense recent scrutiny of Australia's conduct in Afghanistan.
The photo of the 2007 incident caused anger after it was obtained by the Australian Broadcasting Corporation (ABC) on Thursday.
"It was wrong – absolutely wrong – and the commanders took action at the time," Mr Turnbull told reporters.
In a statement, the Australian Defence Force (ADF) said it rejected "as abhorrent everything this flag represents".
The image shows soldiers sitting on the vehicle with the flag hoisted up at the front.
The ABC quoted an anonymous defence source who said the incident had been meant as a "twisted joke", rather than a sign of support for neo-Nazism.
Australia's conduct in the US-led coalition in Afghanistan has been scrutinised following media reports last week that elite soldiers may have been involved in the killing of unarmed Afghans.
Military officials have not commented on those allegations. They are expected to be investigated at two closed-door inquiries which are currently taking place, local media reported.