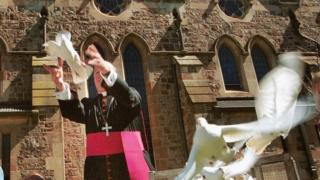 An Australian court has found a Catholic archbishop guilty of concealing child sexual abuse.
Philip Wilson, the archbishop of Adelaide, becomes the most senior Catholic in the world to be charged and convicted of the offence.
He was found to have covered up the abuse of altar boys by a paedophile priest in New South Wales in the 1970s.
During his trial he denied any memory of being told about the abuse by two of the boys.
He told the Newcastle Local Court he had not been aware of priest James Fletcher's abuse, which took place while he was an assistant priest in Maitland.
Fletcher was convicted of nine child sexual abuse charges in 2004, and died in jail in 2006.
One of his victims, Peter Creigh, told the court he had described the abuse to Wilson in detail when he was 15, five years after the abuse.
Magistrate Robert Stone rejected Wilson's assertion that he could not remember the conversation, and said he found Mr Creigh to be a reliable witness.
The priest knew "what he was hearing was a credible allegation and the accused wanted to protect the Church and its reputation", Magistrate Stone said according to the Australian Broadcasting Corp.
Wilson's lawyers had attempted four times to get the case thrown out after he was diagnosed with Alzheimer's disease.
He will be sentenced in June and faces a maximum two-year jail term.