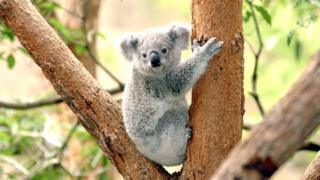 The state of New South Wales in Australia (NSW) is to spend A$45m ($34m; £25m) protecting one of its most iconic creatures – the koala.
The money will be used to establish forest reserves and build a hospital to care for the sick and injured animals.
There will also be adjustments to roadkill hotspots as many koalas are killed by cars.
The koala's decline has been blamed on habitat loss, dog attacks and climate change.
Almost 25,000 hectares (62,000 acres) of state forest will become a koala habitat, for the animals to breed freely.
You may also be interested in:
The koala population has dropped by about 26% over the past two decades in NSW, according to studies.
"We know that there are around 36,000 koalas left in the state, but we don't know that for sure," NSW Premier Gladys Berejikilian said.
"It would be such a shame if this nationally iconic marsupial did not have its future secured."
The Australian Koala Foundation estimates there may be as few as 43,000 koalas left in the wild, down from a population believed to have numbered more than 10 million prior to the European settlement of the continent in the 18th Century.