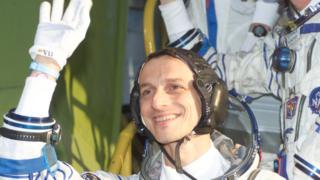 Spain's first astronaut, Pedro Duque, has been named minister of science by the country's new Socialist government.
Prime Minister and self-labelled feminist Pedro Sánchez is expected to appoint a women-majority cabinet, in contrast to the male-dominated executives of ousted PM Mariano Rajoy.
Women will take the deputy premiership, and the economy and finance portfolios.
Mr Duque, 55, last went to space in 2003 as part of an International Space Station (ISS) mission.
An aeronautical engineer with three children, he is prone to quoting the late British science fiction writer Arthur C Clarke, Spanish media report.
Mr Duque was selected by the European Space Agency's astronaut corps in 1992 and became the first Spaniard to travel to space in 1998, when he joined Nasa's STS-95 mission from Cape Canaveral. Mr Duque served as a mission specialist aboard the Space Shuttle Discovery on the nine-day mission.
He and three other STS-95 crew members were awarded the Princess of Asturias Award for international cooperation in 1999, which called them "the architects of the pacific exploration of the universe".
In 2003, he took part in the 10-day Cervantes ISS mission as a flight engineer on the Russian Soyuz-TMA.
From 2011 he headed the ESA's Flight Operations Office in Munich, Germany, and in 2015 "returned to astronaut duties and full flight status", according to a profile on the ESA website.
His official title will be minister of science, innovation and universities, El País newspaper reports.
Mr Sanchez has not officially announced the full cabinet but key names have been widely reported by Spanish media. They include:
Carmen Calvo, a former minister of culture, will serve as deputy PM and minister for equality
Josep Borrell, the former European Parliament president, will be foreign minister
María Jesús Montero, a former Andalusia councillor, will be finance minister
Nadia Calviño, the chief of budget at the EU Commission, will be economy minister
Conservative Popular Party leader Mariano Rajoy, who took office in 2011, was ousted as PM last week after losing a no-confidence motion in parliament.
Mr Sanchez won the support of six other parties to remove Mr Rajoy over a massive corruption scandal. His party only has a quarter of the seats in parliament.
On Wednesday, Mr Rajoy, 63, said he planned to leave the political scene, saying "there are other things to do in life than dedicate oneself to politics".
He added: "I had an enormously intense political life and I think it makes no sense to stay longer here."