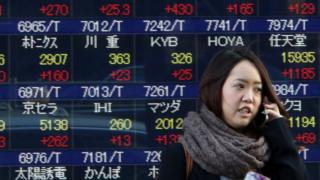 Asian stocks slumped in early trade as concerns about higher US interest rates and a global trade war prompted investors to sell risk globally.
Markets in Asia took their cue from US stocks, which suffered their sharpest one-day falls in months. on Wednesday.
Japan's benchmark Nikkei 225 is down 3.6%. In China, Hong Kong's Hang Seng slumped 3% and the Shanghai Composite shed 2.6%.
The US Federal Reserve raised rates in September as the economy grows solidly.
Higher interest rates makes borrowing more expensive, slowing economic activity and hurting investor appetite for risk.
A US-led trade war against China has also made investors worried about the outlook for global growth.
Elsewhere in Asia, South Korea's benchmark Kospi index fell 2.8% and Australia's S&P/ASX 200 index fell 1.9%.