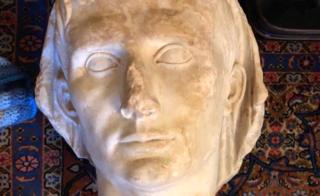 A huge sting operation targeting a criminal gang and carried out by police in Italy, Spain, Germany and the UK has recovered 25,000 archaeological items worth €40m ($47m; £35m), Europol says.
The European Law Enforcement Agency said that 43 suspects believed to be behind the trafficking of stolen goods had been detained on Wednesday.
It comes after a four-year investigation into the criminal group.
The artefacts were said to have been excavated from sites in Italy.
Thousands of historical items were reportedly removed from archaeological sites and exported from the country illegally before being sold at auction houses in Germany, Europol said.
The criminal gang, which was said to be aided by "facilitators" in Barcelona and London, was described by the European police force as "very well organised".
The raids on dozens of properties, which occurred in the early hours of Wednesday and involved more than 250 officers, were the result of an investigation led by a special unit of the Italian Carabinieri – Italy's military police – and supported by police investigators in Spain, Germany and the UK.
A spokeswoman for the UK's Metropolitan Police said that after acting on a European Arrest Warrant, officers had detained a 64-year-old man in the Greater London area and recovered three relics believed to be of Roman origin.
Prior to the raids on Wednesday, some 3,000 authentic cultural items and a further 1,200 fake items were seized by the Italian Carabinieri, Europol added.
Tools used by the criminal gang to retrieve the items, including metal detectors, have been confiscated by the police.
The case is considered to be one of the largest of its kind involving the illegal removal of artefacts from archaeological sites in Italy.
In February, more than 41,000 valuable objects ranging from paintings and sculptures to musical instruments, furniture and even ancient weapons, were seized in a major crackdown involving customs and police officers from 81 countries.