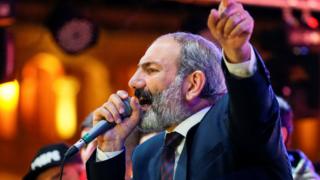 Armenian opposition leader Nikol Pashinyan has called for a general strike on Wednesday after the governing Republican Party voted against his election as interim prime minister.
Addressing tens of thousands of supporters massed in the capital Yerevan, he urged them to block roads, railway stations and airports.
Mr Pashinyan had earlier failed to garner enough votes in parliament despite being the only candidate for the post.
He has led weeks of anti-government protests that forced former PM Serzh Sargsyan to resign.
"We will block the streets, the airports, the metro, the railway, everything that can be blocked," Mr Pashinyan told the crowd in Yerevan's Republic Square.
"If everyone participates in a total act of civil disobedience, this will be a total victory of the people of Armenia. Our struggle is a struggle of non-violence, it is a peaceful act of civil disobedience."
He called on police to join the protests.
The Republican Party had reportedly given assurances that it would not block Mr Pashinyan's bid for the PM's office. It had not put up its own candidate, in a bid to ease tensions.
But during nine hours of debate, some MPs accused him of bringing chaos to the streets and questioned whether he was up to the job of prime minister.
"Mr Pashinyan, I don't see you at the post of prime minister, I don't see you at the post of commander-in-chief," said Eduard Sharmazanov, deputy speaker of parliament and Republican spokesman.
When it became clear they would not support him, Mr Pashinyan told parliament the Republicans had "declared war on the Armenian people". He urged his supporters to stay in Republic Square and said he would join them soon.
Mr Pashinyan received 45 votes but needed 53 to secure a majority in the 105-seat chamber.
He had earlier warned MPs of a "political tsunami" if they did not back him.
How did his supporters react?
The BBC's Rayhan Demytrie in Yerevan said those gathered in Republic Square seem determined to continue their struggle against the governing party.
Mr Pashinyan's supporters shouted "shame" when the result of the parliamentary vote was shown on two huge screens in Republic Square.
The opposition leader, accompanied by his wife, arrived in the square soon after, with the crowd chanting "Nikol, Nikol".
"From 8:15 am tomorrow (Wednesday) all roads should be blocked, I announce a general strike," he told them.
"A revolution of love and tolerance is continuing."
Protester Anait Tolmasyan, 63, said Mr Pashinyan was "the true leader of the Armenian people".
"We all only have one demand – the Republicans must go," he said.
Student Laura Shahverdyan, 22, said the country was united in its demand that the Republican Party's rule must end.
Under Armenia's constitution, a second vote for prime minister must be held in seven days' time. If again no candidate is elected, then parliament is dissolved.
How did we get here?
Mr Sargsyan, who had served 10 years as president, stepped down last month, days after being sworn in as prime minister.
Demonstrators had poured onto the streets of Yerevan in protest at the move, accusing him of trying to cling to power.
Mr Pashinyan then met his rival for talks, which broke down within minutes when he called for the prime minister's resignation and Mr Sargsyan accused protesters of blackmail.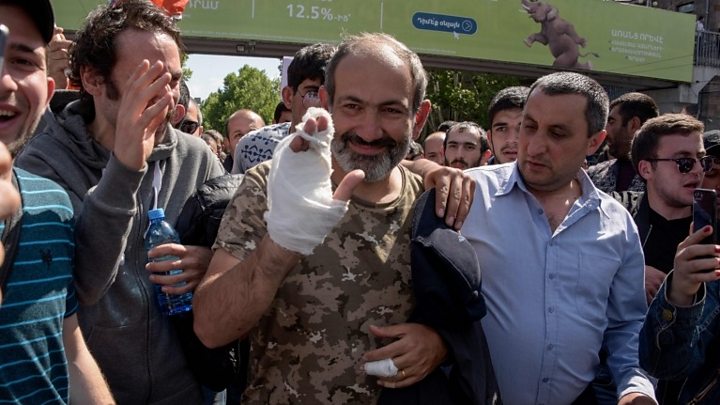 Mr Pashinyan and about 200 protesters were then arrested.
However, Mr Pashinyan was soon released and the prime minister resigned, admitting he had "got it wrong".
Mr Pashinyan has said he will rid Armenia of corruption, poverty and nepotism and has promised snap elections.
Who is Nikol Pashinyan?
He is a former newspaper editor who has spent time in prison for his opposition to the leadership of Serzh Sargsyan.
The son of a sports teacher, Mr Pashinyan came to prominence in 1995 when he began writing about government corruption. He founded a newspaper three years later and went on to take the role of editor at a best-selling daily, which criticised the government of President Robert Kocharyan and then of President Sargsyan.
When Mr Sargsyan was elected president in 2008, Mr Pashinyan was among the leaders of protests that turned violent and left 10 people dead. At that point he went into hiding, surrendering to authorities the following year.
Jailed the following year on charges of murder and organising mass unrest, he was eventually released under an amnesty in 2011.
In 2012, he was first elected to Armenia's parliament. He argues that only he can steer Armenia to free and fair elections.