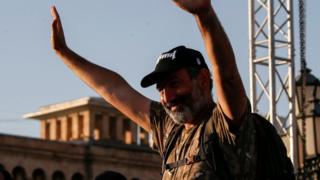 Armenian opposition leader Nikol Pashinyan has suspended nationwide protests after the governing Republican Party indicated it would support his bid to be interim prime minister.
The demonstrations brought much of Armenia to a standstill on Wednesday.
Mr Pashinyan told supporters that the party's position needed clarifying but protests would be suspended for a day.
Republicans blocked Mr Pashinyan's bid to become prime minister in a parliamentary vote on Tuesday.
In a statement on Wednesday, the party did not mention Mr Pashinyan by name but said they would back a candidate nominated by a third of MPs at next week's vote in parliament. It said it would not put forward its own candidate, leaving Mr Pashinyan as the only nominee.
"The issue has practically been solved," Mr Pashinyan told tens of thousands of supporters gathered in the capital, Yerevan.
"All factions said they would support my candidacy… We are suspending protests and going to have a rest."
Mr Pashinyan has led weeks of anti-government protests that forced Serzh Sargsyan to resign after 10 years in power.
On Tuesday, he called for a general strike after Republican Party MPs refused to back him in the vote for interim prime minister.
What happens now?
Parliament is due to hold another extraordinary session on 8 May to try to elect an interim prime minister.
Mr Pashinyan said he would formally submit his candidacy on Thursday and called on supporters to hold a huge rally on Tuesday to "seal our victory".
Earlier, he told the BBC that protesters were fighting for their rights and dignity.
"I want to be clear, it isn't a fight for Nikol Pashinyan becoming prime minister, it's a fight for human rights, for democracy, for rule of law and that is why our people aren't tired and won't be tired," he said.
How bad was the disruption?
Protests broke out across Yerevan and other main cities on Wednesday with cars and lorries blocking roads, while demonstrators stopped traffic on the route to the main airport.
Tourists had to abandon vehicles and carry their luggage. Metro stations in Yerevan were closed as part of the campaign of disobedience.
Entrances to several ministry buildings in Yerevan were blockaded and rail services were disrupted. Trains were not running between Yerevan and the second city, Gyumri, and checkpoints near the Georgian border were affected.
There was further disruption in Gyumri itself and in the third city Vanadzor, where a large crowd of protesters blockaded the mayor's office and other civic buildings. Three thousand workers from a local sewing factory walked out and cut off some of Vanadzor's biggest roads, reports said.
During the day Mr Pashinyan posted a message on social media, urging protesters to halt disruption at the airport, while other opposition politicians appealed to people not to impede emergency services. Police tried to move protesters off the roads but there was no sign of violence.
What led up to the crisis?
Mr Sargsyan left the presidency last month after 10 years in power and was then elected prime minister by a parliament controlled by his Republican party. Under a 2015 referendum marred by irregularities, Armenia shifted powers from the president to parliament.
Mr Sargsyan's move was seen by critics as a way of clinging to office.
Who is Nikol Pashinyan?
The son of a sports teacher, Mr Pashinyan came to prominence in 1995 when he began writing about government corruption. He founded a newspaper three years later and went on to take the role of editor at a best-selling daily, which criticised the government of President Robert Kocharyan and then of President Sargsyan.
When Mr Sargsyan was elected president in 2008, Mr Pashinyan was among the leaders of protests that turned violent and left 10 people dead. At that point he went into hiding, surrendering to authorities the following year.
Jailed the following year on charges of murder and organising mass unrest, he was eventually released under an amnesty in 2011.
In 2012, he was first elected to Armenia's parliament. He argues that only he can steer Armenia to free and fair elections.
His critics accuse him of bringing chaos to the streets and question his ability to lead as prime minister.