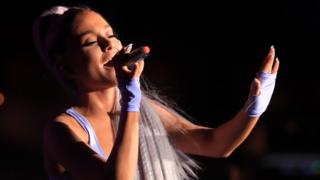 Ariana Grande has said she wants to "bring light" to our lives with her new album in her first interview since last year's Manchester attack.
She didn't address the bombing directly but appeared to get emotional when US TV host Jimmy Fallon discussed it.
The pop star did announce her new album Sweetener, which is due this summer.
She said it is "about bringing light to a situation, or to someone's life, or somebody else who brings light to your life, or sweetening the situation".
Speaking on Fallon's NBC talk show, the 24-year-old singer did not say any more about the inspirations behind it.
It was the host who addressed the events of last May, when 22 people died in a bombing after her concert at Manchester Arena.
She returned to the city to stage the One Love concert less than two weeks later.
Explaining that he hadn't seen the singer since that time, Fallon said: "I know it's tough for everybody, tough for fans and tough for you, and I know you haven't done any interviews, and I understand that.
"I just wanted to say thank you so much for coming on the show and for being strong and for entertaining and for showing up and going back to Manchester and doing a benefit. I thought that was awesome of you. I just think you're so strong and so cool."
Ariana looked like she was welling up and just replied: "Thanks. Thank you."
Fallon then quoted part of a message the singer wrote in the days after the attack: "We won't let hate win. Our response to this violence must be to come closer together, to help each other, to love more, to sing louder, and to live more kindly and generously than we did before."
Fallon added: "Thank you, pal."
Ariana and Manchester
Ian Youngs, arts & entertainment reporter
Ariana Grande wants to carry on being a "normal" pop star – on Fallon's show, she performed her new single, she took part in zany sketches, she talked about her new album to cheers from the excitable crowd.
And she is a brilliant pop star. But she will always be inextricably linked with the events of 22 May 2017. She is also only human.
I don't think the reason she didn't talk directly about Manchester is because she wants to distance herself from it – if that was the case, she would have asked Fallon not to mention it either. His comments would have been planned in advance.
Perhaps having him talk about it was a way of addressing the subject without having to discuss it herself. From the look on her face when he made his comments, perhaps it is just still too painful.
Follow us on Facebook, on Twitter @BBCNewsEnts, or on Instagram at bbcnewsents. If you have a story suggestion email entertainment.news@bbc.co.uk.