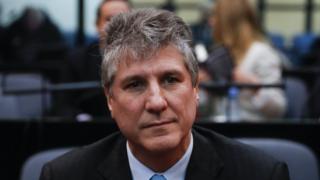 Argentina's former Vice President Amado Boudou has been sentenced to five years and 10 months in jail for corruption.
The charges related to his attempt to buy a money-printing company through a front business.
Boudou was in power during the administration of former President Cristina Fernández de Kirchner.
The ex-president herself has been summoned to give evidence in another wide-ranging corruption investigation next week.
Both say they are victims of political persecution by the current President, Mauricio Macri.
Boudou was accused of lifting a bankruptcy declaration against currency company Ciccone Calcográfica in return for an equity stake when he was economy minister in 2010, before becoming vice-president.
The court in Buenos Aires found him guilty of committing passive bribery and conducting business "incompatible with public office".
He has been banned for life from holding public office, and is expected to appeal against the conviction.
The company's former owner Nicolas Ciccone was also given a four-and-a-half-year sentence.
In 2011, the British newspaper The Guardian dubbed Boudou "Argentina's first rock'n'roll vice-president", based on his guitar playing, his love of Harley Davidson motorcycles and his decision to take a rock band on the campaign trail.
Since President Macri came to power in December 2015, numerous members of previous administration have been linked to corruption charges.
Last week, more than a dozen people were arrested after it was revealed that a driver for a former government official had seemingly been noting down bribes as he delivered them. The so-called "notebooks of corruption" were shared with a local newspaper, which then passed them to justice officials.