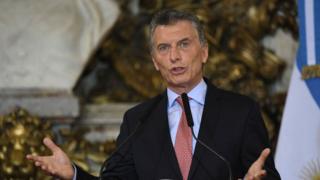 Argentina is to hold talks with the International Monetary Fund (IMF) about financial backing for the country's volatile economy, according to its president.
Mauricio Macri said the move would help Argentina to "strengthen our programme of growth and development".
The peso has lost a quarter of its value in the past year amid President Macri's pro-market reforms.
Last week the central bank raised interest rates from 33.25% to 40%.
In a recorded television statement, Mr Macri said Argentina was suffering as a result of high oil prices and the expectation that US interest rates would go up in the coming months.
"Just a few minutes ago I spoke with director Christine Lagarde, and she confirmed we would start working on an agreement today."
Describing Argentina as a "valued member" of the IMF, Ms Lagarde said: "Discussions have been initiated on how we can work together to strengthen the Argentine economy and these will be pursued in short order."
Argentina is in the middle of a pro-market economic reform programme as Mr Macri seeks to reverse years of protectionism and high government spending under his predecessor, Cristina Fernandez de Kirchner.
Inflation, a perennial problem in Argentina, was at 25% in 2017, behind Venezuela as the highest in Latin America.
This year, the central bank has set an inflation target of 15% and has said it will continue to act to enforce it.
Last week's rate rise to 40% was the third increase in eight days in an attempt to boost the peso.
'Avoid crises'
News of the new talks may be controversial in some quarters. Many people in Argentina still blame the IMF for the policies that led to the 2001 financial and economic crisis. The country defaulted on $80bn (£59bn) of sovereign debt – the biggest in history.
Millions of middle class Argentines were plunged into poverty as a result.
However, Mr Macri said the new negotiations with the IMF would give the country "greater support to face this new global scenario and avoid crises like the ones we have had in our history".
Markets reacted positively to the news, with both local shares and the peso recovering some ground.
Miguel Kiguel, a former Argentine finance secretary who runs local consultancy Econviews, tweeted: "An IMF line of credit is the least expensive option for growth in Argentina."