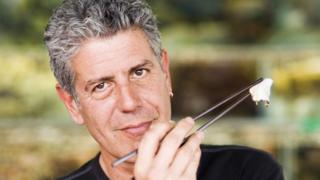 Anthony Bourdain was not your average TV chef. You would not see him regularly standing in a studio, talking viewers through his steps as he threw small bowls of ingredients into a pan.
This presenter was typically found on the road – and specifically on the road less travelled. You would find him eating street food in Peru or dining in people's homes in Haiti; he would turn up in post-Gaddafi Libya or the Democratic Republic of Congo. His shows were not straightforward holiday guides, but about delving headfirst into cultures and cuisines.
His breakthrough book (Kitchen Confidential, 2000) was a tell-all memoir about working in haute cuisine and a huge bestseller, but it was the travel shows that earned him a truly global fan base.
He was the exuberant, enthusiastic and empathetic host of first A Cook's Tour, on the Food Network; then Anthony Bourdain: No Reservations and The Layover on the Travel Channel; and finally Anthony Bourdain: Parts Unknown on CNN, which he was filming when he was found dead in Paris, after an apparent suicide.
The documentary-style programmes would see him eating his way around a country, uncovering talented local chefs, unusual dishes and particularly unique restaurants. Occasionally a celebrity would pop up along the way – Iggy Pop in Miami, Bill Murray in New York's Hudson Valley. All encounters were unscripted, he said.
"I'm not a Middle East expert. I'm not an Africa expert. I'm not a foreign policy wonk," Bourdain told Fast Company magazine in 2014. "But I see aspects of these countries that regular journalists don't. If we have a role, it's to put a face on people who you might not otherwise have seen or cared about."
Viewers appreciated this personal touch. Among the many tributes to him on social media, there were numerous tweets from people who liked that he did not waltz into a new place and attempt to sum it up neatly.
In the Africa is a Country blog, which seeks to expose stereotypical and reductive representations of the continent, there is a 2013 article praising Bourdain's South Africa episode on the Parts Unknown series.
"He seems uncharacteristically defeated or confounded by this place and its people. And that is fine," it says.
(Though it notes that he does fall into some traps and awkward moments too.)
Iran was the country that surprised him the most, Bourdain told National Geographic.
"The people you meet, the mood, and the streets are very different than Iranian foreign policy and the Iran we have to deal with on a geopolitical level," he said.
His shows were not just about taking viewers to places they had never been, he also had a knack for taking local viewers along for the ride too.
Reza H Akbari, an Iranian-American writer and NGO worker, was among those who enjoyed watching his travels in Iran.
"Thank you for dedicating your life to understanding & shedding light on the 'complicated' parts of our world," he tweeted.
The New Yorker once called him a "travelling statesman" – inspired by an episode in Vietnam where he dined with then-President Barack Obama – yet his language was rarely diplomatic and own political opinions regularly came crashing to the fore.
He would sometimes launch into expletive-laden tirades about how countries have been mistreated by foreign powers – and locals often liked that too.