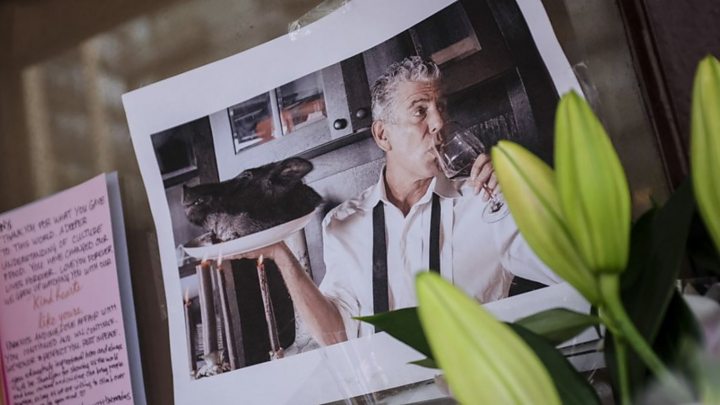 The owner of a noodle restaurant in Hanoi where Anthony Bourdain enjoyed a $6 meal with Barack Obama in 2016 says she is shocked over the chef's death.
"I was surprised and sad when I heard about [Bourdain]," Nguyen Thi Nga told AFP news agency in Hanoi.
Her restaurant, Bun Cha Huong Lien, soared to fame after Bourdain ate there with then-President Obama in an episode of the celebrity chef's TV show.
Bourdain was found dead in his hotel room on Friday in an apparent suicide.
Ms Nga, who helps run the restaurant in the Vietnamese capital, remembered Bourdain as a "nice, friendly and folksy person".
"He praised our bun cha dish and its fish-sauce broth, he loved Vietnamese food," she said.
In 2016, Bourdain shared the simple meal with Mr Obama at the restaurant. The two men sat on plastic stools as they consumed grilled pork, rice noodles and fried spring rolls – all washed down with Hanoi beer.
Images of the casual dinner went viral after Bourdain, known for his love of adventurous street food, described the date in a series of tweets and an Instagram post.
The table where the pair sat and ate, complete with dinner set and empty beer bottles, was later encased in glass and placed on display at the restaurant.
"The customers love it, many take photos next to the table," Ms Nga told the BBC earlier this year, adding: "For us, it is a nice memory that we will cherish forever."
Bourdain apparently took his own life last week while in France filming an episode of his CNN series Parts Unknown near Strasbourg. The best-selling food, fiction and nonfiction author was 61 years old.
Mr Obama later posted a tribute to the chef on Twitter, sharing his own picture of the pair drinking beer during the meal in Hanoi.
Bourdain visited Vietnam on several occasions and recorded a number of programmes about his fascination with the country's food.
Where to get help
From Canada or US: If you're in an emergency, please call 911
You can contact the US National Suicide Prevention Lifeline on 1-800-273-8255 or the Crisis Test Line by texting HOME to 741741
Young people in need of help can call Kids Help Phone on 1-800-668-6868
If you are in the UK, you can call the Samaritans on 116123
For support and more information on emotional distress, click here.