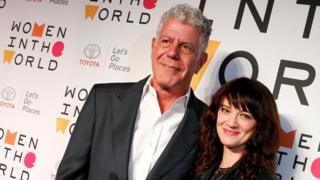 Tributes have been paid to chef and travel writer Anthony Bourdain after he was found dead of suspected suicide.
Bourdain's high-profile support of the #MeToo campaign, which exposed and raised awareness of sexual harassment in Hollywood, is being widely marked.
His girlfriend Asia Argento, a film director, was one of the first to make public allegations in 2017 against Hollywood mogul Harvey Weinstein.
Christiane Amanpour called him a "vital male partner" for women's rights.
The CNN broadcaster added: "He spoke up publicly for us."
Journalist Isaac Chotiner described how much respect he had for Bourdain when interviewing him about #MeToo and restaurant culture.
Others shared excerpts from an interview Bourdain did with Slate magazine in which he described how he considered it a "personal failure" that he had not picked up on sexual harassment in his industry.
Actress Rose McGowan, who helped launch the #MeToo movement after making allegations against Harvey Weinstein, posted an emotional video online in reaction to the news.
"You were so loved, the world is not a better place without you," she wrote on Twitter.
You might also be interested in:
The news comes in the same week as the suicide of American designer Kate Spade, prompting many to share mental health advice.
American politician and author Mike Huckabee wrote on Twitter that Bourdain's death is a reminder of how depression can affect anyone.
Journalist Meg Dalton wrote that she once waited hours to meet the chef to thank him for providing comfort during periods of depression.
Bourdain's ability to inspire viewers about food, travel and other cultures is also being celebrated.
British chef Gordon Ramsay paid tribute to how Bourdain spread interest in diverse food and cultures through his TV programmes, which took him to countries including Iran, Lebanon and Vietnam.
Members of the public are also sharing what the chef's TV programmes and books meant to them.
Twitter use Kaara wrote that Bourdain was her "idol" and that "he made me want to eat everything and go everywhere."
Another fan described how the chef was dedicated to changing stereotypes about the countries he visited.
Seltzer Auntie wrote that she was grateful to Bourdain for producing multiple episodes about Lebanon "to make sure war-torn wasn't the only impression people had of this incredible place."
"Anthony Bourdain passing is genuinely so upsetting to me. I remember always wanting to have a job like that, just exploring the world and eating great food. What a life to have lived. Gone too soon," wrote fan Lauren Summer.
---
Where to get help
From Canada or US: If you're in an emergency, please call 911
You can contact the US National Suicide Prevention Lifeline on 1-800-273-8255 or the Crisis Test Line by texting HOME to 741741
Young people in need of help can call Kids Help Phone on 1-800-668-6868
If you are in the UK, you can call the Samaritans on 116123
For support and more information on emotional distress, click here.
By BBC UGC & Social news