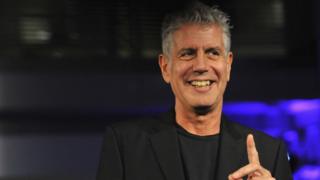 The mother of US chef and television personality Anthony Bourdain has revealed that she never liked her son's tattoos – but now plans to get one in memory of him.
Bourdain, 61, was found dead on 8 June at a hotel in Kaysersberg, a small village in the Alsace region of France.
Investigators said he hanged himself. A prosecutor said on Friday that his body had no traces of drugs or alcohol.
Gladys Bourdain said her son had been cremated in France.
She told the New York Times, where she previously worked as an editor, that Bourdain's ashes and belongings had been sent to his younger brother, Christopher.
A private family ceremony will probably follow in due course, she added, saying: "He would want as little fuss as possible."
Ms Bourdain told the paper she would visit her son's tattoo artist next week to get "Tony" inked on her inner wrist.
The free-wheeling chef had several tattoos of his own, and got his first at the age of 44.
In August 2017, he gave an interview to Maxim while getting a new inking – a stick-and-poke tattoo of a large chrysanthemum.
He said his tattoos all "mark a moment in time", explaining: "I don't overly place importance on them, but they do commemorate in a way that photographs can't. I stopped taking photographs a long time ago when I travel.
"There's this realisation that the lens is inadequate to capture the moment, so maybe I'm just looking to mark time in another way that's very personal."
Bourdain, who helmed the CNN food and travel show Parts Unknown, said vanity was never a factor.
"Look, I'm 60 years old," he told Maxim. "I well understand that any additional tattoos are not going to make me any younger, any hipper, any more relevant, or even more attractive.
"I'm driving an old car. It's filled with dents. One more dent ain't gonna make it any worse than this."
Bourdain's legion of fans tuned in to watch him eat, drink and travel authentically in far-flung and frequently dangerous locations.
His breakthrough 2000 book, Kitchen Confidential, was a tell-all memoir about working in haute cuisine – and a huge bestseller. In it, he wrote candidly about his abuse of drugs, including cocaine, heroin and LSD.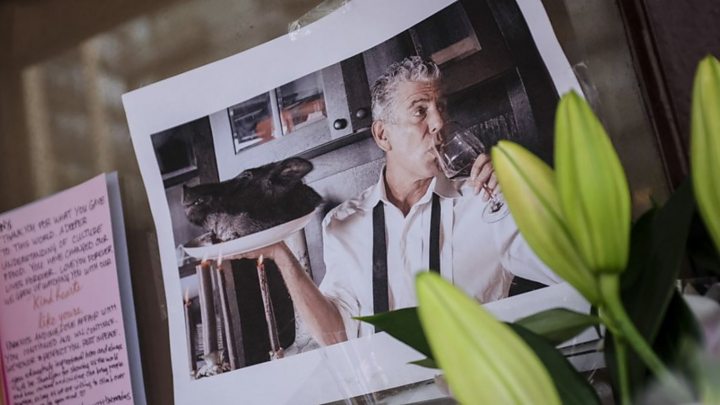 Speaking on Friday, French prosecutor Christian de Rocquigny said the chef had no narcotics or alcohol in his system when he died.
"No trace of narcotics, no trace of any toxic products, no trace of medicines, no trace of alcohol," the prosecutor told Reuters news agency.
Bourdain's agent Kimberly Witherspoon said there were no plans to create an official public memorial "at this time".
Where to get help
From Canada or US: If you're in an emergency, please call 911
You can contact the US National Suicide Prevention Lifeline on 1-800-273-8255 or the Crisis Test Line by texting HOME to 741741
Young people in need of help can call Kids Help Phone on 1-800-668-6868
If you are in the UK, you can call the Samaritans on 116123
For support and more information on emotional distress, click here.