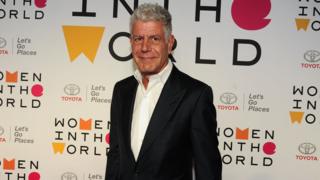 US celebrity chef and television personality Anthony Bourdain has been found dead in his hotel room, aged 61, of a suspected suicide, CNN reports.
Bourdain was in Strasbourg, France, working on a shoot for his series, Parts Unknown, on CNN.
"It is with extraordinary sadness we can confirm the death of our friend and colleague, Anthony Bourdain," the cable network said in a statement on Friday.
Bourdain was a best-selling food, fiction and nonfiction author.
CNN's statement continued: "His love of great adventure, new friends, fine food and drink and the remarkable stories of the world made him a unique storyteller.
"His talents never ceased to amaze us and we will miss him very much. Our thoughts and prayers are with his daughter and family at this incredibly difficult time."
He shot to fame in 2000 with a best-selling book called Kitchen Confidential: Adventures in the Culinary Underbelly, a behind-the-scenes expose on the world of haute cuisine.
His first TV show was A Cook's Tour on the Food Network in 2002. Three years later he joined the Travel Channel with Anthony Bourdain: No Reservations, picking up two Emmy Awards.
He moved to CNN in 2013 with a new travel and food show Parts Unknown, which is in its eleventh season.
Where to get help
From Canada or US: If you're in an emergency, please call 911
You can contact the US National Suicide Prevention Lifeline on 1-800-273-8255 or the Crisis Test Line by texting HOME to 741741
Young people in need of help can call Kids Help Phone on 1-800-668-6868
If you are in the UK, you can call the Samaritans on 116123
For support and more information on emotional distress, click here.