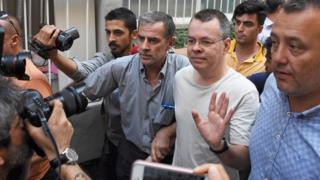 American pastor Andrew Brunson has been freed from house arrest by a court in the western province of Izmir, Turkey.
Mr Brunson was arrested over alleged links to political groups following the failed 2016 coup attempt in a case that soured US-Turkey relations.
He denied charges of espionage, which could have led to a 35-year jail term.
He was sentenced to three years in prison but will not serve time as he had already spent two years in jail.
Mr Brunson is a long-term resident in Turkey. He lived with his wife and three children while working as the pastor of the small Izmir Resurrection Church, which had a congregation of about two dozen.
The authorities accuse him of having links with the outlawed Kurdistan Workers' Party (PKK) and the Gulenist movement, which Turkey blames for a 2016 failed coup.