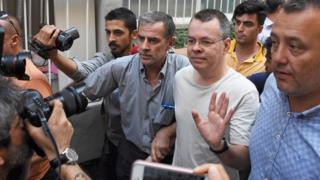 Hopes are rising that American pastor Andrew Brunson could be freed on Friday, more than two years after he was first detained in Turkey.
A number of US media outlets report a deal has been struck for the North Carolina evangelical's release.
However, Vice-President Mike Pence would only say "we remain hopeful" ahead of a scheduled court appearance.
Mr Brunson was arrested over alleged links to political groups following the failed 2016 coup attempt.
The pastor, who has been under house arrest since being released from prison in July, denies charges of espionage. If found guilty, he faces up to 35 years behind bars.
His detention has damaged relations between Washington and Ankara, with both sides imposing sanctions on the other – resulting in the Turkish lira plummeting.
On Thursday both The Washington Post and NBC News reported a deal had been reached between the US and Turkey for Mr Brunson's release, citing unnamed sources.
However, speaking with reporters, Mr Pence would not confirm such a deal existed.
"We remain hopeful that with the court proceeding tomorrow that Turkey will see its way clear and free this good man who is guilty of nothing and who has been incarcerated for several years in Turkey unjustly," the vice-president told reporters at a briefing, adding the Trump administration had "made it clear that we will continue to stand strong until Pastor Brunson is free".
Who is Andrew Brunson?
Mr Brunson is a long-term resident in Turkey. He lived with his wife and three children while working as the pastor of the small Izmir Resurrection Church, which had a congregation of about two dozen.
The authorities accuse him of having links with the outlawed Kurdistan Workers' Party (PKK) and the Gulenist movement, which Turkey blames for a 2016 failed coup.
Mr Brunson was moved into house arrest in July for health reasons, but US Secretary of State Mike Pompeo said this was not enough.
"We have seen no credible evidence against Mr Brunson," Mr Pompeo tweeted at the time.
Turkey's foreign ministry said it had shared "necessary information" with the US, but insisted the case should be left with its judiciary.
What is Turkey's motivation?
Mr Brunson is one of 20 Americans who were charged after the coup attempt two years ago, according to the New York Times.
More than 50,000 people were arrested in Turkey in President Erdogan's huge post-coup crackdown.
He blames Pennsylvania-based Muslim cleric Fethullah Gulen for the attempt, but Mr Gulen denies any involvement.
Turkey wants the US to agree to his extradition. Mr Erdogan has indicated he would swap the pastor for "the priest" (Mr Gulen).
US support for Kurdish forces fighting the Syrian civil war has also angered Mr Erdogan, who views them as an extension of the PKK.
The PKK – a Turkish-Kurdish rebel group fighting for autonomy since the 1980s – is considered a terrorist group by Turkey and the US.