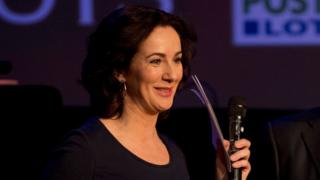 The Dutch city of Amsterdam has chosen former political leader Femke Halsema to be its mayor, the first woman to be given the role in its history.
While most big cities in the Netherlands have had women mayors, the capital in common with Rotterdam has never been led by a woman.
An ex-leader of the left-wing Groenlinks party, Ms Halsema said she was "happy, proud and humbled" by the nomination.
Amsterdam had its first mayor in 1343.
The nomination of Ms Halsema, 52, by the left-led city council, has to be ratified by the government and signed by the king but that is seen as a formality.
She retired from frontline politics in 2011 and succeeds Eberhard van der Laan, who died last year.
Her nomination came several months after a group of 45 prominent Amsterdam women protested in an open letter backing calls for a woman to take up the job. "For a capital city that considers itself emancipated, diverse, tolerant, gender-neutral and progressive, this is becoming embarrassing," they wrote.
There had long been talk of choosing a woman, they complained, but when the time came it had been absurdly claimed there was no suitable woman for the job.
Femke Halsema's nomination has not been universally welcomed. Critics said she had no suitable administrative experience and 7,400 people have signed a petition against her.
Complaining about her green policies, they asked: "Do you want a mayor who stands up for your city, rather than the whole planet?"
On Wednesday, MPs representing three-quarters of the Dutch parliament proposed new legislation aimed at cutting emissions of greenhouse gases by 49% by 2030 and 95% by 2050.