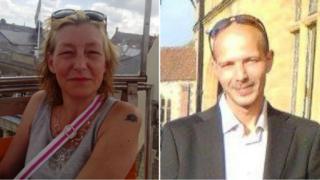 The home secretary has called on Russia to explain the Novichok poisoning after two more people were exposed to it.
The couple, believed to be Charlie Rowley, 45, and Dawn Sturgess, 44, fell ill at a house in Amesbury, Wiltshire, on Saturday and remain critically ill.
Sajid Javid said the nerve agent used in the latest poisoning was the same type as that which ex-Russian spy Sergei Skripal was exposed to in March.
He said 100 counter-terrorism officers were working with Wiltshire Police.
"It is now time that the Russian state comes forward and explains exactly what has gone on," Mr Javid told MPs.
He said the "strong working assumption" was that the couple came into contact with the nerve agent in a different location to the sites which had been part of the clean-up operation after the Skripal poisoning.
"It is completely unacceptable for our people to be either deliberate or accidental targets, or for our streets, our parks, our towns, to be dumping grounds for poison," he added.
Earlier, Prime Minister Theresa May said it was "deeply disturbing" to see two more people exposed to Novichok in the UK, and the police would leave "no stone unturned in their investigation".
What happened?
On Saturday, paramedics were called twice to a house in Muggleton Road in Amesbury – first at 11:00 BST after Ms Sturgess collapsed, then later the same day, after Mr Rowley also fell ill.
Wiltshire Police said it was initially thought the two patients had been using heroin or crack cocaine from a contaminated batch of drugs.
In the early hours of Wednesday, police declared a "major incident" after revealing the couple had been exposed to an "unknown substance".
By late that evening, Scotland Yard said Novichok was to blame following analysis at the defence research facility at Porton Down, Wiltshire.