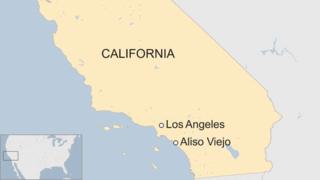 Investigators believe an explosion at a medical office in southern California that killed one woman may have been intentional, US media reports say.
The blast at the two-storey building in Aliso Viejo, south of Los Angeles, also injured two people.
A US official told the Associated Press the authorities were investigating it as an intentional act and a package may have caused the blast.
But police have not confirmed this and they say no device was found.
"We have not found any type of specific device inside of the building right now that could tell us or lead us to what exactly the device was, if it was a device," Commander Dave Sawyer of the Orange County Sheriff's Department said at a press conference.
He said buildings in the area had been damaged by the blast.
The ground shook and it felt "almost like an earthquake, but a big earthquake", a witness in a nearby building told CNN.
Dong Shin said he had seen "fire, smoke, insulation popping out of the walls, a lot of scared people running around, a lot of commotion".
The sheriff's department has stressed that the investigation remains at an early stage.
The dead and injured have not been named.
More California stories: