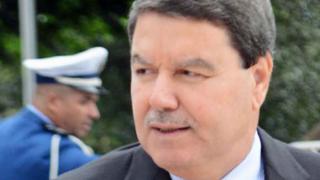 Algeria's Abdelaziz Bouteflika has sacked his powerful police chief, who was seen as a possible successor to the 81-year-old head of state.
Gen Abdelghani Hamel had led the police since 2010.
No reason was given for the 62-year-old's dismissal but it comes amid a drug-trafficking scandal that has shaken the establishment.
The police have denied media reports that the general's personal chauffeur was involved in smuggling cocaine.
However, the force admitted that one of its fleet of drivers had been arrested in connection with the case involving the seizure of more than 700kg (1,540lb) of cocaine from a container ship in May.
The shipment, destined for a prominent businessman, came from Brazil and the drugs were found in boxes marked "halal meat".
Analysis
By Ahmed Rouaba, BBC News
Gen Hamel's sacking comes as a surprise as he is close to the president and has survived other difficult situations in his eight years as police chief.
In 2014, the police went on strike demanding more support – which was a major embarrassment for the general, who became the butt of many jokes.
Trained as a computer engineer, he began his career in the army, rising through the ranks to head the Republican Guard, which is responsible for the security of the president.
His downfall appears to be his public remarks about the drug-trafficking case – as only the justice minister is allowed to comment on an ongoing investigation.
In a media interview, Gen Hamel reiterated that the driver arrested was not his chauffer, implicitly criticising the investigation.
Mr Bouteflika has named Mustapha El Habiri, a former army colonel and head of the fire fighters, as the new police chief.
The ruling FLN party has urged Mr Bouteflika, who has been in power for 19 years, to run for a fifth term in office.
He won elections in 2014 despite doing no personal campaigning and rarely appearing in public after having suffered a stroke in 2013.
He first took office when Algeria was still caught up in a brutal civil war with Islamist insurgents, and is credited with curbing the conflict and restoring economic stability.
He amended the constitution in 2008 to remove the two-term limit on the presidency, effectively giving himself the option of remaining head of state for life.