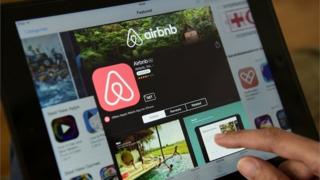 Airbnb has been warned that its terms and conditions fall foul of EU consumer rules, especially on pricing.
The European Commission has told the firm to tell consumers up-front the total cost of renting a property, including service and cleaning charges.
When this is not possible, it should at least warn them that there may be additional sums to pay later.
Airbnb should also make clear if the offer is made by a private individual or a professional, the Commission said.
Consumer protection rules differ according to which of the two applies.
The European Commission has raised various other points with Airbnb on which it is not complying with EU law, including denying consumers the basic legal right to sue a host in case of personal harm or other damages.
Solutions needed
"More and more consumers book their holiday accommodation online and this sector has brought many new opportunities to holidaymakers. But popularity cannot be an excuse for not complying with EU consumer rules," said Věra Jourová, who is the EU's commissioner for justice, consumers and gender equality.
"Consumers must easily understand what for and how much they are expected to pay for the services and have fair rules, eg on cancellation of the accommodation by the owner. I expect Airbnb to follow up swiftly with the right solutions."
Airbnb said it was looking into the issues brought to its attention by the European Commission.
"We take this issue seriously and are committed to being as transparent as possible for our community," a spokesperson said.
"Guests are made aware of all fees, including service charges and taxes, prior to confirming their decision to book a listing, and we will work together with the authorities to clarify the points raised."
Regulatory trouble
Airbnb has until the end of August to present its proposals for change. If they are not considered satisfactory, Airbnb could face an enforcement action.
This is not the first time this summer that Airbnb has had trouble with regulatory authorities.
Last month, it had to cancel thousands of reservations in Japan after the country's government put in place a new law on home-sharing.
Airbnb has said it is aiming to have one billion annual guests worldwide by 2028.
The firm is one of Silicon Valley's most valuable companies and is already worth an estimated $30bn.