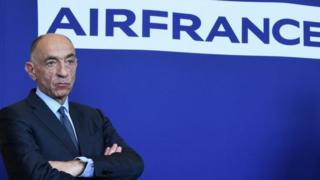 Air France-KLM chief Jean-Marc Janaillac has announced his resignation after French staff at the strike-hit airline rejected a new pay deal.
"I accept the consequences of this vote and will tender my resignation to the boards of Air France and Air France-KLM in coming days," he said.
In a ballot, 55% of the French employees rejected the deal.
Air France-KLM – one of Europe's biggest airlines – has seen a series of strikes in recent weeks.
The industrial action has cost the Franco-Dutch alliance millions of euros.
Air France-KLM has already downgraded its profit and growth expectations for 2018.
Air France and KLM merged in 2004. They transport tens of millions of passengers around the world every year.
Labour reforms launched by French President Emmanuel Macron have also led to strikes by employees of the state-owned SNCF rail company.