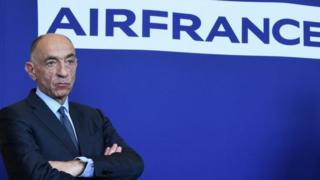 The survival of strike-hit Air France is in the balance, according to the country's economy minister.
Bruno Le Maire's warning that Air France could "disappear" comes as staff begin another round of industrial action over a pay dispute.
Despite the French state owning 14.3% of the Air France-KLM parent group, the loss-making airline would not be bailed out, he said.
On Friday Air France-KLM's chief executive quit over the crisis.
Air France-KLM is one of Europe's biggest airlines, but has seen a series of strikes in recent weeks.
Monday's walk-out is the 14th day of action, as staff press for a 5.1% salary increase this year.
The government's response is seen as a test of labour reforms launched by French President Emmanuel Macron. There have also been strikes at the state-owned SNCF rail company.
On Sunday, Mr Le Maire told French news channel BFM: "I call on everyone to be responsible: crew, ground staff, and pilots who are asking for unjustified pay hikes.
"The survival of Air France is in the balance," he said, adding that the state would not serve as a backstop for the airline's debts.
"Air France will disappear if it does not make the necessary efforts to be competitive," he warned.
Despite the strike, the airline insisted that it would be able to maintain 99% of long-haul flights on Monday, 80% of medium-haul services and 87% of short-haul flights.
On Friday, Jean-Marc Janaillac, chief executive of parent company Air France-KLM, resigned after staff rejected a final pay offer from him, which would have raised wages by 7% over four years.
Air France-KLM reported a net loss of €269m (£238m) in the first quarter of the year.
British Airways and Lufthansa have already undergone heavy cost-cutting in recent years, amid rising competition from low-cost airlines and carriers from the Gulf states.
But many analysts say Air France has lagged far behind when it comes to restructuring and has failed to address its continued losses.
The group has already downgraded expectations of its financial performance for 2018.
Air France merged with Dutch carrier KLM in 2004. The joint company flies tens of millions of passengers around the world every year.