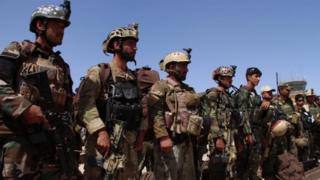 The Afghan government has announced a temporary ceasefire with the Taliban but says fighting with other militants will continue.
President Ashraf Ghani said the ceasefire would coincide with the end of the Ramadan fasting month, Eid. The Taliban have yet to respond.
Last week they denied they were in secret talks with Afghan officials.
Tens of thousands of Afghans have been killed since US-led troops drove the Taliban from power in 2001.
Foreign combat forces withdrew in 2014. Since then the Taliban have extended their influence over swathes of the country, and areas previously taken from them are now back under their control.
The Afghan army has suffered mounting casualties, although the Taliban are also reported to have been hard hit by US air strikes.
A BBC investigation published in January found the militants now have an active presence in 70% of Afghanistan.