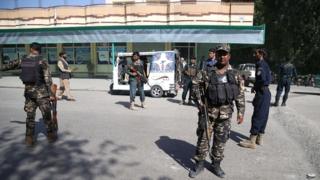 The strength of the Afghan security forces has declined sharply over the past 12 months due to desertions and high casualty rates, a US government watchdog has said.
The number of security forces personnel has fallen by about 10% to just under 300,000, according to a new report.
The findings come a day after a wave of attacks killed nearly 40 people.
The report says more of the population is falling under the control of militant groups including the Taliban.
The report was released by a group known as Sigar (the Special Inspector General for Afghanistan Reconstruction).
It says the Taliban and other militant groups now either control or influence more areas of the country since the group started recording the data in late 2015.
The Taliban and other insurgent groups have been inflicting heavy casualties on Afghan forces and the security agencies seem unable to stop suicide attacks even in heavily protected areas like the capital, Kabul, says the BBC's Ethirajan Anbarasan.
"Building up the Afghan forces is a top priority for the US and our international allies, so it is worrisome to see Afghan force strength decreasing," John Sopko, the head of Sigar, told Reuters news agency.
A BBC study released earlier this year found that Taliban fighters were openly active in nearly three-quarters of the country. The Afghan government, however, says it controls most areas.
But attacks claimed by Taliban and Islamic State group militants have killed scores in Kabul and elsewhere.
The BBC research also suggests that IS is more active in Afghanistan than ever before, although it remains far less powerful than the Taliban.
Last year, US President Donald Trump announced the US military would stay in the country indefinitely.
US-led forces have spent billions of dollars trying to defeat the Taliban. Last year, the US said it would send 3,000 extra troops to Afghanistan as the Taliban gained ground and the security situation deteriorated.