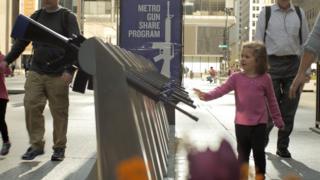 A Chicago public art installation is raising eyebrows in its protest of American gun culture.
The display, Chicago Gun Share Program, depicts an urban bike-sharing station, but instead pretends to offer people the opportunity to rent a rifle.
A sign invites anyone to "unlock and load" a replica high-powered, semi-automatic rifle known as an AR-15.
Activists say they want to raise awareness on how easy it is to "obtain a weapon of war".
The installation in downtown Chicago's Daley Plaza was commissioned by the Brady Center, a gun control advocacy group.
"We hope the Chicago community takes advantage of the opportunity to visit this installation and to learn just how simple it is for an everyday civilian to obtain a weapon of war," Kris Brown and Avery Gardiner, co-presidents of the Brady Center told US media.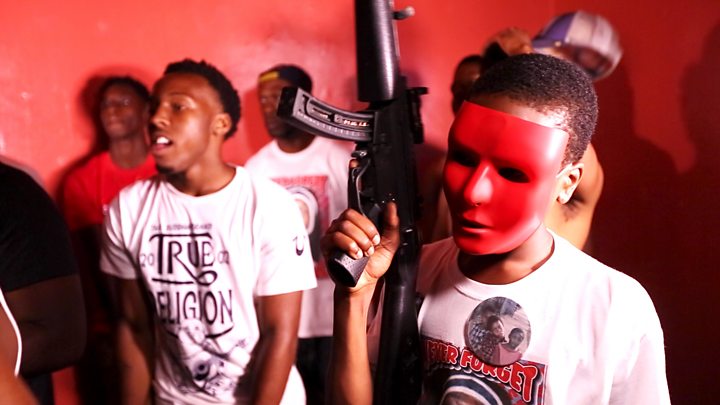 The structure, which was erected by Chicago advertising agency The Escape Pod, displays 10 fake AR-15 rifles.
The legally-available weapon has been used in a string of recent mass shooting attacks, including one at a Florida high school that left 17 people dead in February.
Part of the installation includes a sign featuring statistics, including data showing that many of Chicago's gun crimes were committed with weapons that were brought from neighbouring states such as Indiana.
"When you rent a bike it's easy. It's easy to just rent a gun and it's easy to kill a person with it," tourist Omar Bahey Eldin, 12, told NBC Chicago after viewing the exhibit.
Illinois Congressman Mike Quigley, posted a photo of himself visiting the exhibit on Monday, writing "getting a gun shouldn't be as easy as renting a bike – but in many cases, it is".
The Brady Center advocates for banning AR-15 rifles, stricter background checks for all gun sales and the ability for a court to prohibit gun ownership from people who may pose a threat to themselves or others.
The exhibit will be open to the public until 16 May.