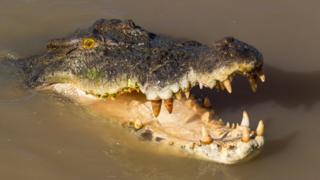 An Aboriginal ranger has been taken by a crocodile in a remote area of Australia, say workplace safety officials.
The woman was reported missing on Friday in Arnhem Land, a vast Northern Territory wilderness area.
Police are travelling to the scene, but the woman's condition is not known.
Northern Territory WorkSafe said the attack happened near the community of Gan Gan, at least 500km (300 miles) east of Darwin.
"NT WorkSafe has commenced an investigation into the incident," it said in a statement.
The woman is believed to be part of the Yirralka Rangers programme, the Australian Broadcasting Corporation reported.
The programme employs about 50 people to care for a large section of traditional land belonging to the Yolngu people, Yirralka Rangers says on its website.
Crocodile attacks claimed 14 lives in the Northern Territory between 2005 and 2014, according to research published last year.