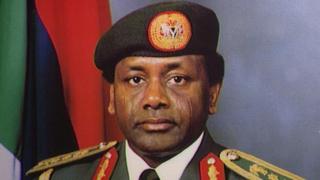 Money looted by Nigeria's former military ruler Sani Abacha is to be distributed to poor families, the government says.
The distribution is to start next month after more than $300m (£228m) was returned by the Swiss authorities.
The money, stolen by Abacha in the 1990s, is due to be given to around 300,000 households, with each getting around $14 a month.
Critics fear the handouts could be a way to influence next year's election.
At this rate, the payments should last for about six years.
The money was originally deposited in Luxembourg, and is a fraction of the billions of dollars allegedly looted while Abacha was in power from 1993 to 1998.
President Muhammadu Buhari made the recovery of stolen assets a major part of his 2015 election campaign – he has said he will stand for re-election.
Switzerland is believed to have returned about $1bn to Nigeria over the last 10 years.
Last year, Roberto Balzaretti, one of the Swiss officials involved in the negotiations with Nigeria, told the BBC that there would be strict conditions attached to the transfer of the money back to Nigeria.
The money would be paid in instalments and in small amounts, to help poor people under the supervision of the World Bank with regular audits.
If the first instalment is not properly accounted for, subsequent payment will be halted. This is to prevent the funds from being stolen again, Mr Balzaretti said.