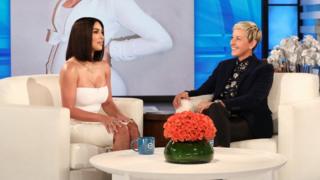 Kim Kardashian has broken her silence on the Tristan Thompson scandal, following allegations he cheated on her sister, Khloe, while she was pregnant.
The star appeared on Ellen DeGeneres's talk show on Monday night, also revealing she and Kanye had a difficult time agreeing a name for baby Chicago.
In a wide-ranging interview, they covered a range of topics, including Kanye's tweets, red carpets and Kimye house rules.
Here's what we learned:
1. Tristan's cheating
Kim was the first of the Kardashians to openly comment on the reports that Khloe's boyfriend Tristan cheated on her sister while she was pregnant with their daughter, True.
"I don't even know how to describe it besides it's just so [messed] up," Kim said about the situation – using a slightly stronger word than messed.
"We really were rooting for Khloe – and we still are. She's so strong and she's doing the best that she can – it's really a sad situation all over."
Kim looked like she wanted to say more but refrained.
"I kind of made this rule with my brother: if there's a baby involved, I'm going to keep it cute and classy and not talk too bad. I'm going to try not to say anything so negative because one day True is going to see this and it's just so messed up."
Despite rumours that Khloe had forgiven Tristan, Kim said her sister was taking some time to try to work out what to do.
"She wants to have some alone time with the baby and figure out what her next steps are," Kim said.
"I think it must be so hard to have your heart broken and fall in love all in a day or two – it all happening at the same time," Kim added, referring to True's arrival just days after the reports of Tristan's cheating first appeared.
"She's going to get through it, and all we can do is be there for her and the baby."
2. Kimye have a no phones rule in the house
Perhaps the biggest shock revelation was that the Kardashian-West household has a no phones policy in place.
"[Kanye] always talks about how we should not have our phones first thing in the morning.
"And in the house when we're with the kids, let's not have our phones. It's our rule that we really try to live by."
The queen of social media has no phone time? We all need to take note.
3. Kim isn't actually that keen on the name Chicago
Prior to their most recent arrival, Kim had told Ellen, she wanted a baby name with one syllable to match her other children North and Saint.
But, somehow, she ended up with a three-syllable name.
"It kind of messes with me, I'm not going to lie. I really like the one syllable thing," Kim admits.
And actually the other names Kimye were considering are really normal…
"We were going to name her Jo, because of my Grandma, Mary-Jo. Or we were going to go with Grace…and we ended up with Chicago," says Kim in a bewildered tone.
She then goes on to say she's unsure how the name Chicago even came about.
The mother-of-three adds that she thinks the name is "cool and different"… but totally gets subbed down to Chi (pronounced Shy)…. "still one syllable," she reassures herself.
4. Kanye hates red carpets
Being half of the one of the world's most photographed couples, you think you'd have to love being in the limelight.
Perhaps not.
Looking through a number of pictures of the two together, Ellen points out Kanye's scowl, and refers to a conversation she had with him about how he doesn't seem to smile in public.
According to Kim, it's to do with a dislike for press events.
"He hates red carpets, but [in the above photo] I was like, "Oh, I didn't just spend three hours getting ready – you had better stand on this red carpet for two seconds!"
No man who waited three hours for his wife to get ready is ever going to smile.
5. Kim is a bit of a pro at Family Fortunes
"I'm really, really, really good," she says of her upcoming appearance on the US equivalent quiz show Family Feud.
She also reveals she was obsessed with the show as a teen, saying she watched it in her father's office when she was supposed to be working.
(Isn't work experience the best?)
6. Kanye played Connect 4 during his daughter's delivery
Speaking about the birth of the couple's latest baby, Chicago, Kim described using a surrogate mother as the "best experience".
In the delivery room, she said: "The moment she was getting the epidural, I was like thank God this is not me."
Kim revealed she had her sister, Kourtney – and NOT her husband – with her at the birth for support. Kanye was in the next room "playing Connect 4 with his friends". Natch.
"It's his favourite game – he's the best at it," she adds.
Connect 4? Really? Is it even difficult to be good at it?
7. Kim was surprised to see Kanye back on Twitter
Kanye recently rejoined Twitter – and don't we know it.
The rapper hasn't wasted any time using the platform to sermonise and spread the (somewhat cryptic) Yeezy philosophy.
"I didn't even know he got his Twitter again – until I started seeing tweets come in from other people, retweeting them," Kim said.
"I was like, 'Wait, is this real?' At night, he came in and was like, 'Did you see my tweets??!'
She decided to do the decent thing and follow him back. After all, he needs to get his follower count up.
8. Kim is as confused as the rest of us over Kanye's tweets
Asked about the meaning of some of her husband's tweets, however, Kim admitted she was at as much of a loss as the rest of us.
Ellen wondered about one of the tweet exchanges between the couple, and asked what Kanye meant when he said: "Sometimes you have to get rid of everything."
"I was very confused about that one," Kim admits.
"What did he mean?" asks Ellen.
"I don't know… it didn't mean EVERYTHING," Kim says, with slight uncertainty in her voice.
"But you live with him…" persists Ellen.
"Yeah, it didn't mean me…" she says. Hmmm – let's hope so….
9. North is not thrilled about being a big sister
"She does not share with Saint, she does not – hardly – talk to Saint."
With Chicago she is getting "better".
Kim describes her "shock" when the day before the interview, North offered to share her popcorn with Saint.
"That was such a big moment in my household yesterday."
"Saint is nicer than North, I will say that."
As a parent, though, are you even allowed to say that?
10. Wedding anniversaries are on Kanye
Kim admitted that the pair are big into going on holiday at the moment, and mused that it would be a nice idea to go somewhere for their upcoming fourth anniversary.
"We're really into taking trips these days," she said. "I think it would be good to take one with just the two of us. A house full of three kids is wild – I can't even explain it."
Asked whether Kim would have a plane waiting and just surprise her husband, she waivered.
"But his birthday is the next week, so I feel like he should do the anniversary and I'll do his birthday… that's a good trade."
Seems like a fair deal to us.
Kim added for good measure: "I'll just remind him its our anniversary."
11. Saint can spell the word gargantuan
That's right. A two-year-old can spell a word you still have to use spellcheck for.
"I've never seen a kid speak the way he speaks," Kim says of her Yeezy protege.
"He has such amazing vocabulary and I know it's like such a Kanye thing to say, like, 'Oh my kid's a genius', but if I'm saying it, it's real," she says, tongue in cheek.
"I was very impressed," she goes on.
So are we, to be fair.
Follow us on Facebook, on Twitter @BBCNewsEnts, or on Instagram at bbcnewsents. If you have a story suggestion email entertainment.news@bbc.co.uk.